Using Open-Source Data to Track School Access in Africa
SDGs Today wants your help to map school locations in Africa
In 2017, the United Nations Educational, Scientific and Cultural Organization (UNESCO) reported that six out of ten students did not reach minimum proficiency levels (MPLs) in writing and mathematics by the time they finished primary school. 
In Sub-Saharan Africa, this rate was as high as 88 percent.
In 2015, 193 member states of the United Nations (UN) unanimously adopted a new global framework of 17 Sustainable Development Goals (SDGs) to end poverty, protect our planet, and promote peaceful and inclusive societies by 2030.
Amongst these goals, SDG 4 aims to "ensure inclusive and equitable quality education and promote lifelong learning opportunities for all". Indicators for these targets often include enrollment or participation rates. While enrollment rates continue to increase, other quality barriers remain for many students and learners. 
Physical distance to educational facilities is one such barrier. 
UNESCO identifies school access as a major barrier for many students and a 2021 study out of Ghana indicated that a student with a 30 minute or greater walk-time to school is likely to experience poorer learning outcomes.
SDGs Today is an initiative under the United Nations Sustainable Development Solutions Network (SDSN) with the aim to advance the production and use of timely and geo-referenced data for the SDGs with a library of data on the SDGs, as well as geographic information system (GIS) educational and training resources.

At SDGs Today, we wanted to explore and quantify the population of students and potential learners within distinct travel times to educational facilities. While many ministries of education provide school location data, these data products are often several years out of date and are not provided in multi-national data products, which are extremely useful for multinational studies on school access. 
In line with our mission values, we wanted to construct a data product that is timely and freely accessible to everyone to quantify these barriers to education access. In July 2021, we released Mapping School Locations, a dataset aimed to provide just that for Africa. Mapping School Locations provides demographic specific population counts of population aged 5 to 20 years, binned by walk-time to educational facilities, at the first administrative level for every country in Africa.
This dataset is derived from OpenStreetMap (OSM) school building locations, WorldPop annual population counts, and a walking-only surface friction raster image created by Weiss et al. (2018). 
OSM is a powerful open-source georeferenced data repository that is created, managed, and verified by a massive online mapping community, of which anyone and everyone is able, and encouraged, to contribute. We begin our dataset production by extracting school building locations from OSM (Fig 1 below).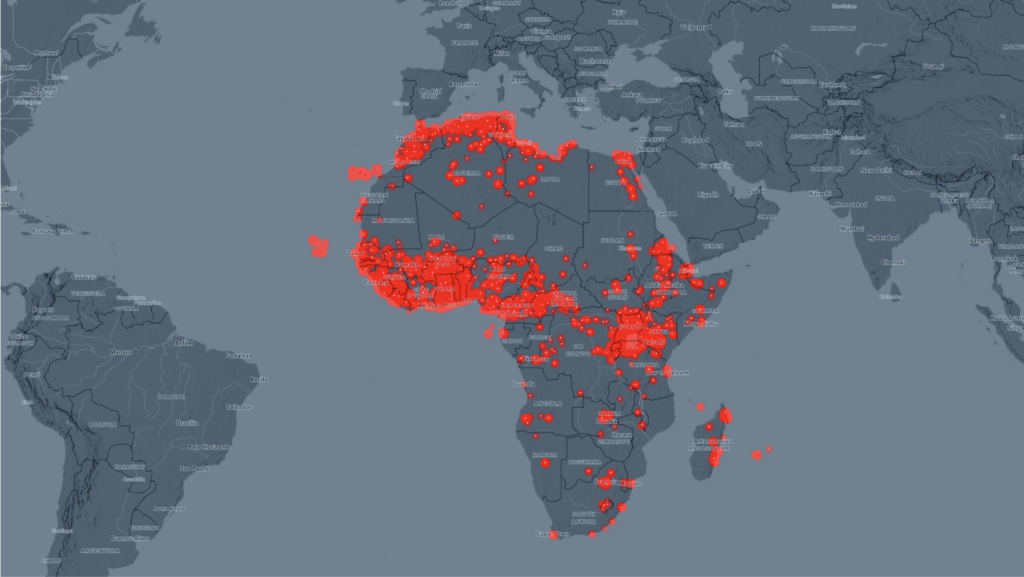 These school locations are then used as source locations to calculate travel time for every 1km cell, as identified by the travel-time friction raster image from Weiss et al, (2018), which accounts for land cover type, elevation, national borders, and other physical boundaries. The result is a 1km raster image for Africa, where each cell is walking-only travel time from an educational facility recorded in OSM (Fig 2 below).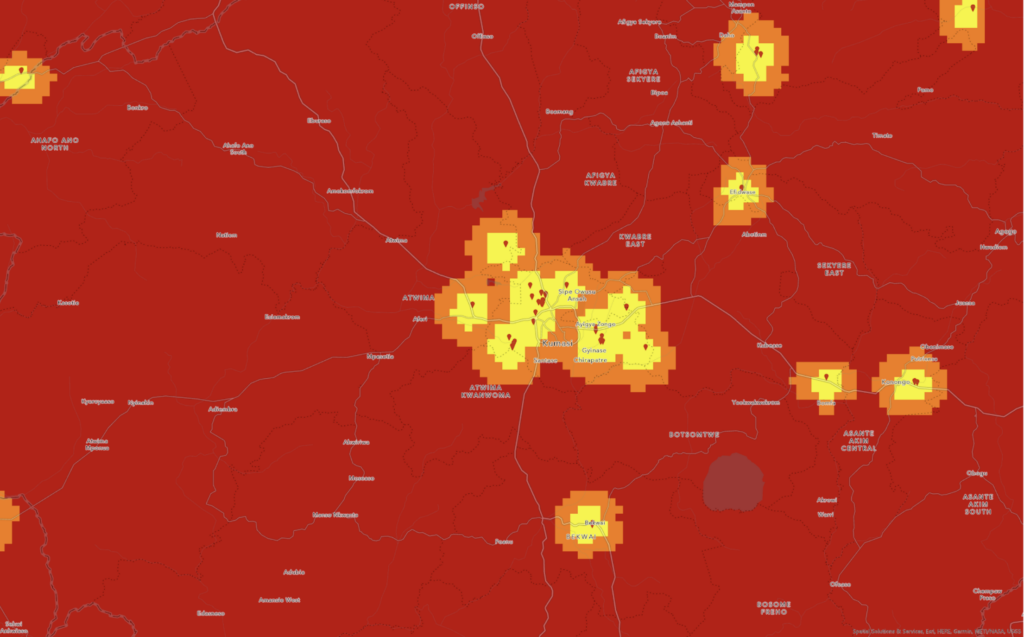 We then overlay age/sex demographic specific population data from WorldPop, which provides annual products.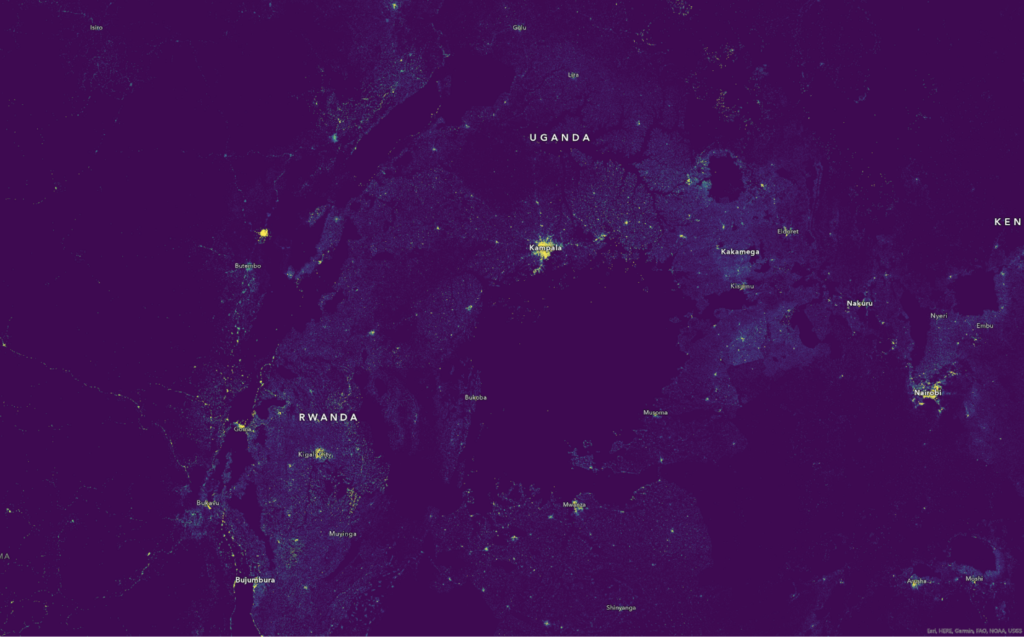 This allows us to mask the school-age population counts by binned walk-times from the OSM recorded school locations, creating six walk-time and demographic-specific population raster images. Finally, these images are overlaid with first-level administrative boundaries using zonal statistics to create aggregate sums by administrative unit.
However, in the development of this dataset, we realized that OSM data is far from comprehensive for most countries in Africa and in need of concerted mapping efforts to ensure that every school is available in this freely accessible dataset. 
So, along with Mapping School Locations, we have launched My School Today!, a call to action to mobilize and train local students and mapping communities to add schools in their areas to the OSM data repository.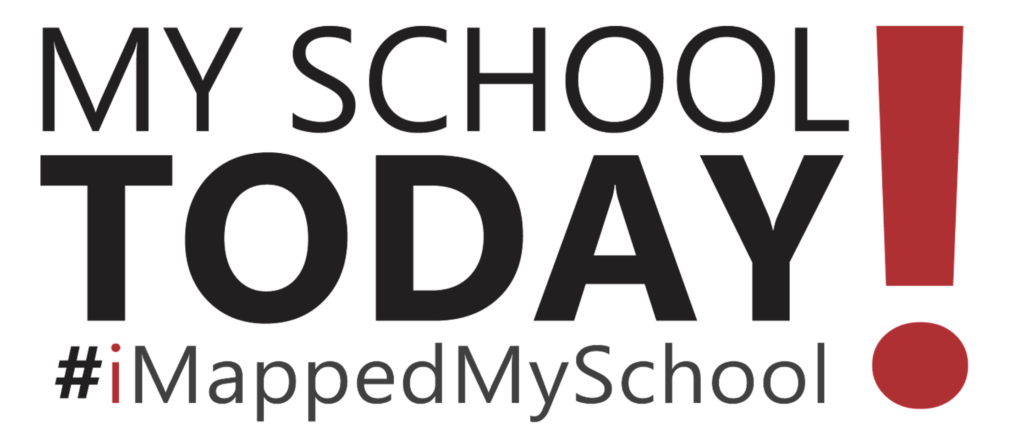 Our call to action includes multi-lingual step-by-step school mapping guides, participation guides, a mapping survey, and a list of resources for learning GIS processing and management skills. Additionally, we are working with global and local organizations including: iLab Liberia, Africa Geoportal, Humanitarian OpenStreetMap Team, Millennium Promise, Esri, and other institutions. We believe that this call to action will help fill the gap in timely education data and facilitate the learning and engagement of the growing youth GIS communities in Africa.
If you'd like to join us in our goal to map every school in Africa, follow My School Today! and learn how you can participate!